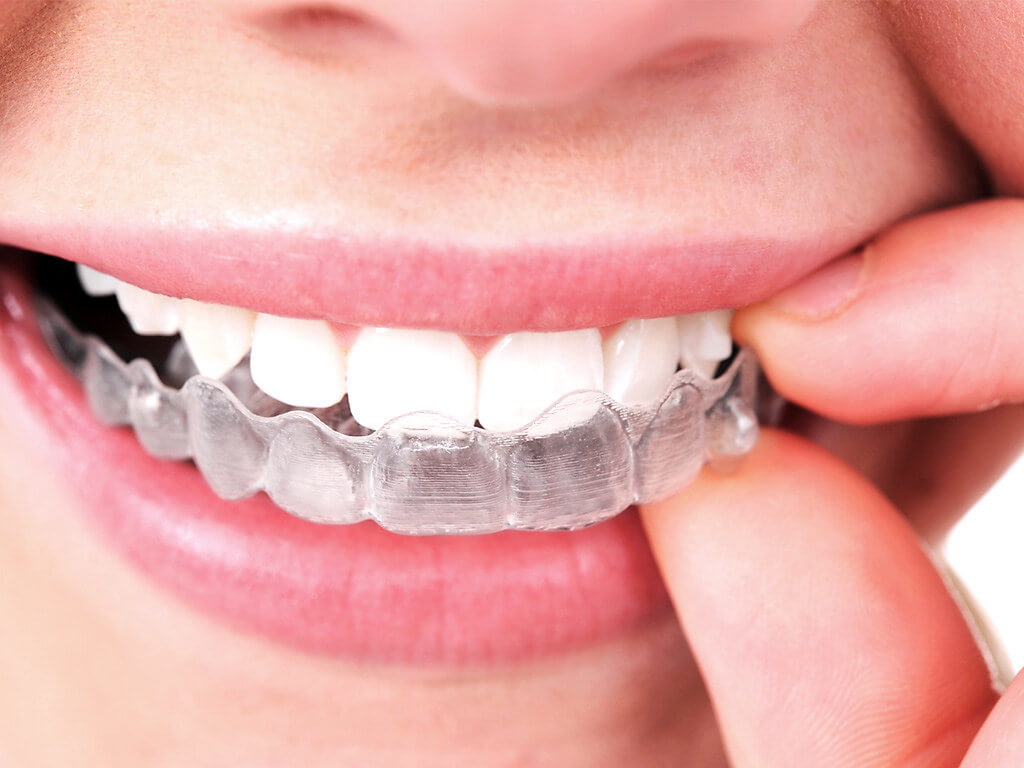 Invisalign
Everyone appreciates a straight perfect smile.
If you find yourself covering your mouth when you smile or are smiling cautiously because of misaligned teeth and conventional braces do not appeal to you, we have the solution that many of our adult and professional patients appreciate – invisible braces (Invisalign).
Straight Teeth Promote a Healthy Smile
Crooked teeth affect more than self-confidence.
Overcrowded, overlapping teeth are difficult to clean and may not come together correctly, causing jaw problems, sensitive teeth and uneven wear. In case you needed one more reason to choose orthodontic treatment in our Myaree clinic. Properly aligned teeth means improved oral health.
Invisalign – No Braces
Many of our patients prefer to avoid the conventional bracket and wire orthodontics, we proudly offer Invisalign clear aligners as an alternative for a more discreet approach to orthodontic treatment. 
We begin with a comprehensive evaluation of your teeth and periodontal health. Digital X-rays and dental impressions of your teeth will be taken to provide valuable information to organise and design a treatment plan that best suits your aesthetic needs. We will then discuss an appropriate timeline and cost of treatment, so you can decide if Invisalign clear braces are right for you.
In some cases, we may apply tiny tooth-coloured buttons, called attachments, to the teeth to assist with movements. These will be removed at the end of your treatment leaving you to enjoy your new smile.
Benefits of Invisalign
Most adults appreciate that orthodontics can be kept discreet to help maintain self-confidence and professional situations. We also offer Invisalign Teens for compliant older teens who wish to improve their smiles without braces. 
Removable – You can simply remove the aligners to eat then brush and floss.

Clear – Invisalign aligners are virtually invisible.

Smooth – Aligners eliminate the need for conventional brackets that irritate the soft tissue inside the cheeks and lips. 

Versatile – With the exception of complex treatment cases, Invisalign can correct nearly any orthodontic conditions.  Crowded and overlapping teeth to gaps between teeth, overbite and under bite, irregular or non-uniform alignment, and best of all, it is more cosmetic.

Smile Preview – Invisalign affords you the opportunity to see the finished results even before you start treatment.
Invisalign treatment Guidelines
If you should decide to proceed with Invisalign treatment, your compliance plays a vital role in a timely and ideal result. Guidelines vary from patient to patient, but these are general guidelines to expect:
Wear your aligners at least 22 hours a day.

Remove them when you drink hot liquids, eat and clean your teeth.

Wear each set of aligners approximately two weeks.

Keep your aligners out of hot vehicles and away from pets.

If you lose or damage an aligner, contact the clinic immediately.

After comprehensive treatment, wearing a retainer will keep your teeth from drifting back out of alignment again.
Braces
Braces are conventional brackets that are bonded to all teeth that are to be straightened in the treatment process. These small brackets are small stainless steel attachments that are designed to be effective and as non-intrusive as possible to provide superior comfort throughout your orthodontic procedure. In some cases it may not be feasible to use Invisalign to align the teeth, this is where conventional braces are used to achieve your ideal smile. 
You will be advised to attend monthly short orthodontic appointments to ensure that your teeth are progressing as planned and to also allow us to reinforce proper dental hygiene throughout treatment.
Ready for a straight smile? 
Beautiful smiles make memorable first impressions. Do not let crooked teeth hold you back. Dr Koh and Dr Zhan are experienced in orthodontics and are perfectionists when it comes to giving their patients the perfect smile they have always wanted.